---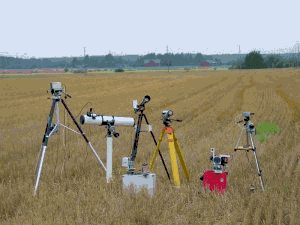 ---
LASER and optical experiments:
Return to homepage


- fiddling around with an authentic Peter Laakmann CO2 laser :-)
Late summer photos of some laser field tests (literally !):
- an article (in Finnish) about FM-ATV over LASER experiments I did recently (now working on adding almost linear, digital NICAM sound too)
- 200 kHz wide optical receiver with 24 MHz HF IF for the FT817 radio (built for OH1JJC)
- rear view of the optical detector/converter with IF output and DC input
- also gave the man some gain to put ahead of this receiver for our over-the-horizon tests in the future using SSB/CW
- had some ideas of adding an junkbox optical receiver (25k) to the OH2RTE Amateur Television Repeater of OH2HKE
- see end of this page for Helsinki night time laser experiments (17.6 km)
- added JA1ATI optical communications experiments page
- astrospectrometry with Jorma Ryske (see Optical Projects for more): Vega
- a photomultiplier detector/receiver for experimenting with CW carriers (this page contains sound samples too !)
- a photo of my laser TRX (162k) setup during a test with OH2HOT/p
- you can see the red laser signal (7k) from OH2HOT/p in the top left segment of this photo
- a CW laser transceiver based on an article of Jim Moss
- experimenting for a 30 MHz bandwidth Acousto-Optic Spectrometer using a Lead Molybdate AOM on 80 MHz (67k)
- this device (69k) is probably from a laser plotter and is manufactured by Isomet Corp.
- the Bragg Cell (11k) with HeNe laser, RF amplifiers, mixers, attenuators and an optical detector forms the basis of the AOS
- here you can see how I did some simple testing (69k) on the Bragg based AOM using a laser diode
- a simple piece of black anodized aluminium profile acted as a load for the leakage (42k) signal (and IMD)
- this is the deflected laser (36k) spot (and IMD) with an 80 MHz carrier on the AOM Bragg cell
- a multimode ( SSB/FM/CW ) laser communication system. There are some photos here...
- a 50 mW SSB/FM/CW subcarrier laser transmitter on 650 nm
- fixture for my 10 mW HeNe laser to telescope for laser communications
- BIG file: notes on laser communications ( in Finnish )
- a chopper modulated 10 mW HeNe LASER transmitter used for MCW experiments
- idea for an Extreme ( 9k ) 137 kHz/474 THz rig ( Maybe the coil could be BPSK modulated directly ? )
- here you can find a very neat & cheap mechanical solution for a pointing (20k) mechanism, by OH2HOT ;-)
- experimenting with a USB2000 spectrometer from Ocean Optics Inc.
- the absorption of atmospheric oxygen (5k) at 764 nm
- optical spectrum of my fluorescent (5k) table lamp
- the wavelength response of some 650 nm filter (5k) material I use for receiving
- here is a spectrometer plot (5k) of three different laser pointers, note the wavelength difference !
- the wavelength response of an IR filter (5k) I use, this time with sunlight (note the oxygen absorption line)
- cooling a laser diode by about 40 degrees decreased the wavelengh by over 10 nm
- and here you may find the interesting emission spectrum of my pocket white LED (5k) torch
- more experimenting: this time with a neon (5k) marker ("glim") lamp (through a red plastic window)
- a bright 2000 mcd blue LED (7k) spectrum peaking at 476 nm @ 25 degrees C ambient
- some red filter (7k) material we use with our experimental laser comms systems
- the normalized (7k)diffuse white light source response after calibration for the previous measurement
- an insertion loss (7k) measurement of exposed x-ray film used for a optical attenuator
- measured response of a Thorn EMI tri-amber (7k) filter
- measured response of a Thorn EMI tri-green (7k) filter
- measured response of exposed/developed colour film negative (7k) (note: dangerous stuff for solar eclipse viewing !)
- astrospectrometry experimenting (Fraunhofer lines) is yielding first results: the Balmer series Hydrogen lines (67k) of Vega
- others logged with my amateur colleague Jorma Ryske: Jupiter, Capella, Arcturus, Gamma Leo, Mizar, Castor, Pollux
- the raw unprocessed data (1M) in Excel format
- equipment setup used (15k) for these experiments
- this system is also capable of tracking satellites, so we are waiting for the AO-40 810 nm telemetry laser to come on ;-)
Some very good sites on amateur astrospectroscopy:
Helsinki City laser QSO experimenting on August 29th and 30th, 2003:
first we tested our equipment on a short 1 km path between Munkkiniemi (55k) and Otaniemi
this is me setting up the laser TX (58k) (AM modulated SSB/CW/FM subcarrier)
using a 1940's Hildebrand Wichmann Werke (Freidberg, Berlin) optical sighting device for laser pointing
after proper calibration, the crosshair (38k) provides an excellent tool for pointing
here I am again with the laser TX (69k), now setting up for the 17.6 km QSO
the Hamamatsu PMT (73k) receiver with Laphroaig-Bowmore optical shielding as setup in Malminkartano
the support team (57k) in Malminkartano: OH2YA on the left and OH1JJC to the right
reception in Vuosaari: OH2KTB, photomultiplier tube for SSB and baseband RX (LED panel for TX) with OH2JRD
transmitting from Vuosaari: OH2HOT, Laser MCW TX (photodiode + optics for RX)
here is the block diagram (11k) of my receiver system
and here is the block diagram (9k) of my AM transmitter system
locators: Malminkartano, KP20KG10IG79 & Vuosaari, KP20NF84UI28 (tnx OH2MNI)
a sample sound file (456k) of my SSB as copied in Vuosaari (bare PMT) and relayed on FM to Malminkartano
signals received and relayed by OH2KTB
note the fast fading tone due to air particles amplitude modulating the 650 nm carrier
and a second audio (328k) sample file with a Fresnel lens in front of the Vuosaari PMT RX
the integrating effect of the Fresnel lense is clearly audible: much less flutter :-)
the other direction of the QSO was in MCW transmitted by OH2HOT (laser)
reports exchanged initially were 593/55 due to the very strong flutter improving to 59 with Fresnel optics
signal strength was enough for totally noise free FM though, eliminating atmospheric modulation
but best of all, was this cloud scatter experiment (10k) leading us to draw startling conclusions...
signals were weak, but clear and indicate vast potential for long distance communication
reception was with the OH2KTB PMT only, no optics, 50 kHz CW AM sideband :-)
photos of this activity weekend by OH1JJC and OH2AUE
---